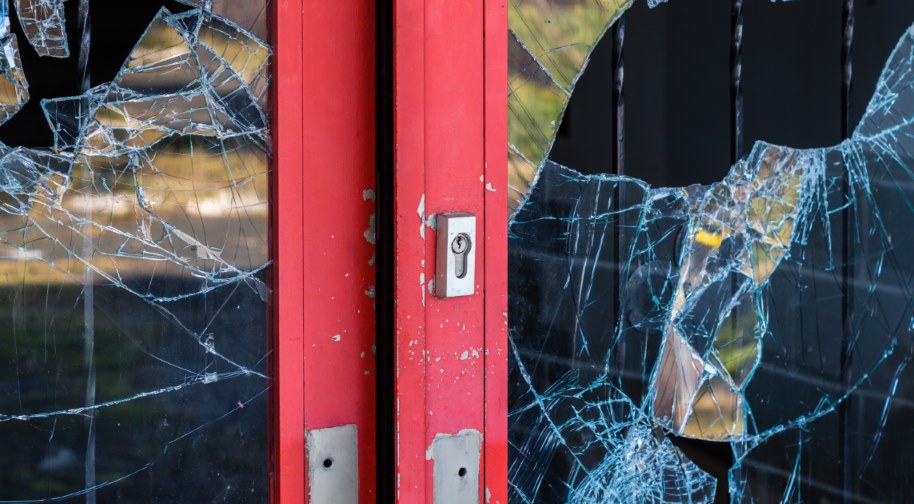 Is Your Point of Sale System Data Protected Against Disaster?
In this article, we are highlighting another customer of ours, Bread and Bretzel Basket, a family-owned bakery and café in Waterloo, Ontario that makes a wide variety of quality baked goods, including bread, buns, cakes, pastries, donuts, cookies, chocolate and more – all from scratch. Translation: a whole load of yummy!
Early one morning in the summer of 2018, Roland Daldrup, the owner of Bread and Bretzel Basket, came to work to find that the front door of his store was smashed and his entire Point of Sale system was gone, the cash drawer and all! While most people would be forced to close their store for at least a few days, Roland was able to keep his store open. Here's how he did it.
A business owner's nightmare
"I remember pulling into the parking lot that morning and thinking, great! Now I have this to deal with on my busiest day of the week,"
The first thing that Roland, the owner of the Bread and Bretzel Basket did was call the police to report the break-in. Then he called Tri-City Retail Systems, his Point of Sale System vendor, to find out what his exposure was if the thief tried to hack into his POS system to get customer data or other valuable information about his business. "My initial concern was the data but then I remembered that it was all in the cloud, (remote computers that store information)" says Daldrup. "As long as I froze my account in time, I knew I would be fine." That's because his POS system, MyPOS Connect, only allows connections from users with an IP address that's recorded on a safelist, (whitelisted IP addresses). "My call was returned within two minutes, says Daldrup!" "I spoke with the support agent and he immediately blocked all access to my database to protect my customer's personal information as well as my sacred business data."
Michael Steg, one of the managing partners at Tri-City Retail Systems remembers getting the call from Roland. "He certainly sounded upset," says Steg, "I guess it throws you for a loop when you realize that bad things can happen to anyone. It was lucky that Roland emptied his cash drawer before leaving the store the night before." Unfortunately, because the cash drawer was closed, the thief had to take it along with the POS terminal that ran his retail management system. If he had left the drawer open, the thief would have seen that there was nothing in the till and probably would have left it alone. This is a very common mistake that many business owners make; always leave the cash drawer open when you close the store.
What now?
Roland's next challenge was replacing his POS system and getting it set up so that he could process sales and get his business up and running again. Since he was using MyPOS Connect, all of his product and pricing information was still intact and safely stored in his database in the cloud. Everything from his customers to his suppliers to his sales history was also backed up and available for him. So, he needed to install MyPOS Connect on any Windows device and the support team at Tri-City Retail could connect it to his database. In 10 minutes, he would be up and running as if nothing had happened.
"Roland wanted to know how much a new POS system would cost and how quickly we could get it up and running," says Steg. "I remember telling him that it could take a while to order a replacement system and suggested that he just use any other computer in his store. But like many of our customers, Roland only had one POS terminal that he used to run his entire business. I told him not to worry, we would provide a temporary replacement point of sale terminal that we would lend him until his replacement arrived."
"Tri-City Retail's response was beyond any of my expectations. I was given a loaner POS system to re-establish my business until the new terminal arrived," says Daldrup. Within a few hours, his system was set up and connected to the Bread and Bretzel database; it was business-as-usual!
"The Tri-City Retail staff was extremely helpful and quick to act during this bump in my journey,"
When asked what advice he would give other retailers similar to him, Daldrup said: "don't wait for something like this to happen before you get a cloud-based POS system. But if it does, you won't find a better replacement for your POS system than MyPOS Connect." He went on to say, "MyPOS Connect has helped me better control my inventory, profit calculations, and staffing. I have also had an increase in revenue because I can measure the popularity of certain items and their busy times and days." When asked about his POS system provider, Daldrup said this: "the service at Tri-City Retail is remarkable. Anytime I need assistance with any issue I can call their support department. They are always positive and helpful and they resolve my issues every time."
We were so glad that we could be there for Roland during such a trying and stressful time. And we'd like to thank him for allowing us to share his story. If you would like to learn more about Bread and Bretzel Basket, visit their website at www.breadandbretzelbasket.com
https://tricityretail.com/wp-content/uploads/2019/08/Broken-Glass-Doors-optimized.jpg
504
914
Mike Steg
https://tricityretail.com/wp-content/uploads/2019/03/tri-city-website-logo.png
Mike Steg
2019-08-27 15:06:34
2022-07-28 22:31:07
Is Your Point of Sale System Data Protected Against Disaster?